We are the commercial cleaning experts.
Welcome to ServiceMaster Clean of Moncton
The CLEAN You Expect. The SERVICE You Deserve
At ServiceMaster Clean of Moncton, we work with our customers to understand their unique office cleaning needs and customize our services and schedules to keep their facility looking great. Whatever your cleaning service or scheduling needs, we can tailor a janitorial service plan just for you. You can count on ServiceMaster Clean of Moncton to help your business look it's best every single day.
At ServiceMaster Clean of Moncton we aim to consistently do our job right and strive to make your job hassle-free. If we don't meet your expectations the first time, we'll work to correct it immediately.
ServiceMaster Clean of Moncton is pleased to offer Complete Commercial and Janitorial Services in the Moncton, Dieppe, Riverview and Surrounding areas.
We specialize in:
Housekeeping services
Kitchen cleaning & sanitizing
Cleaning, sanitizing & restocking of restrooms
Dusting
Waste removal
Window washing
Hard-surface floor cleaning and refinishing
We also serve our commercial clients with value added services such as:
Diposable products for your office including breakrooms
Carpet cleaning, spot removal and maintenance programs
Fabric divider cleaning
Post construction cleaning
Clean, well-kept facilities enhance the corporate image of companies and provide a healthy environment for customers and employees. Every day more than 100,000 businesses world-wide depend on ServiceMaster Clean to keep their facilities neat and clean. That's because we hire the best people, train them well, and provide them with the most technologically advanced products and equipment. The result is service so good…we guarantee it.
PREVENTATIVE CLEANING AND DISINFECTION SERVICES
For years, ServiceMaster Clean of Moncton have been the experts in creating clean, safe and healthy workplace environments. Our experience and training afford us the ability to promote safe practices for infection prevention within all businesses.
In these unprecedented times, we are ready to respond with effective and customizable solutions. ServiceMaster Clean of Moncton provides a full range of cleaning and disinfection services that will help to keep your workplace healthy and productive.
GET A FREE ASSESSMENT
COVID-19 FAQs
What is an epidemic vs a pandemic?
According to the World Health Organization (WHO), "a pandemic is a worldwide spread of a new disease." Before a disease is declared as a pandemic, it has to exceed a few other levels, according to the Centers for Disease Control and Prevention (CDC):
Sporadic:

When a disease occurs infrequently and irregularly.

Endemic:

A constant presence and/or usual prevalence of a disease or infection within a geographic area.

Epidemic:

A sudden increase in the number of cases of a disease — more than what's typically expected for the population in that area.

Pandemic:

An epidemic that has spread over several countries or continents, affecting a large number of people.
MORE COVID-19 FAQS
News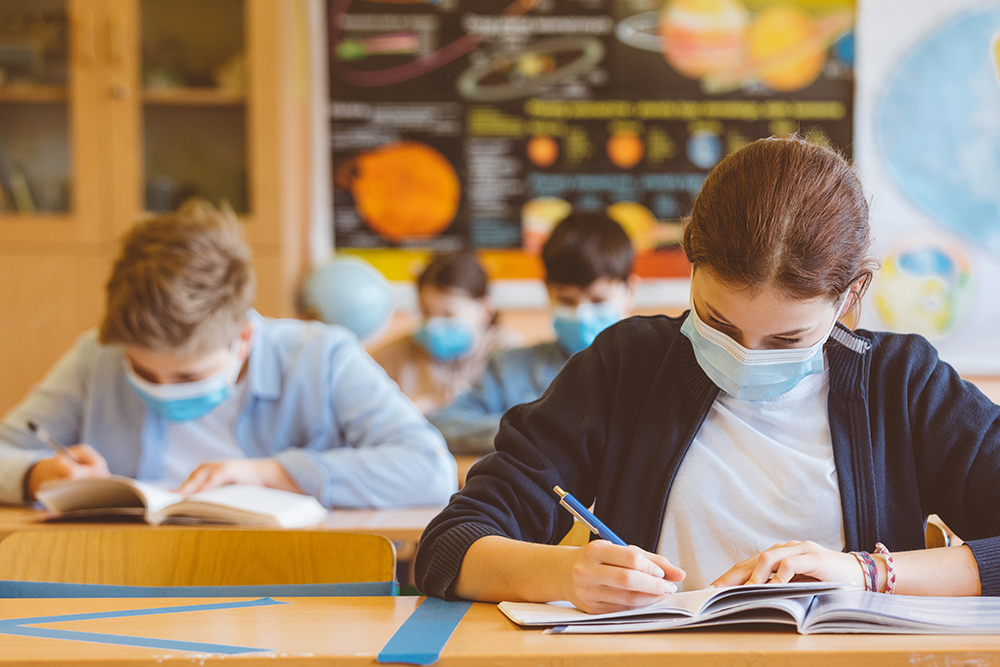 The Facts On Disinfecting Schools
School administrators are facing perhaps their most difficult fall season ever. Getting back to school has never been more uncertain or complicated. Ensuring the safety of students and faculty during the COVID-19 pandemic has raised some challenging questions, many of them about cleanliness and disinfection. Infection control in schools is always a concern because of influenza and bacteria such as MRSA and C. diff, but COVID-19 presents new questions. Principals and school boards are seeking information and they often turn to commercial cleaning professionals for the answers.
---
Cleaning and Disinfection Services
We take disinfection seriously! As such, our process always begins with cleaning to allow us to remove any visible dirt and soil. By cleaning first, we enable the disinfectant product to do its job effectively! For disinfection service, we use only Health Canada approved disinfectants. Should your concern be specifically about COVID-19, rest assured, our disinfectants are also on Health Canada's list of approved disinfectants for use against COVID-19.
About Us
We want your business and we want to earn it through quality performance, extraordinary customer service and value pricing. ServiceMaster Clean has been proudly serving commercial cleaning and Janitorial needs in Moncton and surrounding area since 1995. We are constantly striv
Commercial cleaning services to suit every budget. Our plans start as low as $250 per month - whether you need daily janitorial office cleaning, commercial carpet cleaning or specialty commercial cleaning. Depending on your specific requirements, we will work with you to develop a plan that suits your needs, and your budget.
Guaranteed Service
No other vendor offers the quality of service and degree of commitment as consistently or as affordably as ServiceMaster Clean. We are so confident in our performance, we guarantee it!
Our expertise, dedication and value-added services make us the best commercial cleaning choice for your business.
Get A Free Assessment